Established local family business
We are a full service general contracting company serving the San Mateo County coastal region. Verdura Construction is a family business specializing in single-family residential and light commercial construction. Through our light–building division we also do home additions and renovations, including kitchens, baths, fences, decks and landscaping.
We have lived and worked in the area all our lives. We work closely with planners, engineers, real estate companies and other local community organizations that play a vital role in shaping the regional landscape. We know the lay of the land and have what it takes to build your dream home or take care of your smaller project.
The greening of our environment is becoming increasingly important in our coastal communities We are excited about it and look forward to help create more sustainable living space at home as new green technologies become available.
When it comes to building we take the long term approach. We endeavor to build and deliver a quality product that will stand the test of time and provide lasting satisfaction and value to our clients.
Verdura Construction is also dedicated to the time tested principles of service,reviwing construction plans commitment, and to a high level of performance and workmanship. We seek to fulfill our clients' expectations and requirements in a professional manner, provide meaningful and safe opportunities for our employees, and further distinguish our industry with every project we complete.
Let us know about your dreams and upcoming construction projects. Give us a call today!
Our Team
Verdura Construction builds its trust and reputation in the community on highly skilled and dedicated construction professionals.
Consequently, we place an emphasis on the safety, training and development of our team members to make them more valuable and resourceful to our customers.
Our team members have extensive experience and come from diverse backgrounds. We believe that expertise in all phases of construction creates the basis for outstanding value for our clients.
We are proud of our talented personnel, which include professionals in all disciplines of the construction business.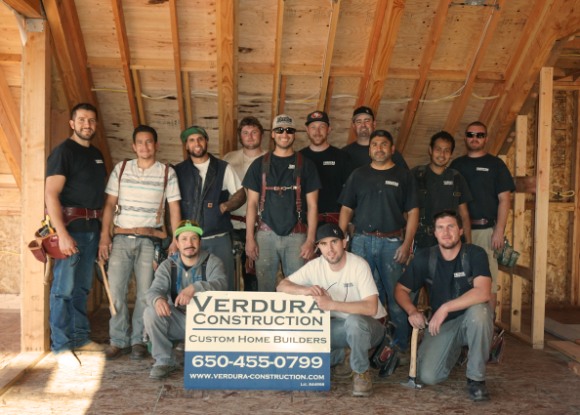 Areas of Service
Half Moon Bay, El Granada, Miramar, Moss Beach, Pacifica, Woodside, Palo Alto, Atherton, San Mateo, San Carlos, Belmont, San Bruno, Burlingame, So. San Francisco, Colma, Brisbane, Daly City.
Professional Service
We take pride in offering professional service, quality products and competitive pricing, but perhaps the greatest benefit, and what distinguishes us from others, is our extensive background and experience in all aspects of construction.

Contact Information
Verdura Construction
PO Box 519
Half Moon Bay, CA 94019
webmaster@verdura-construction.com
650-455-0799